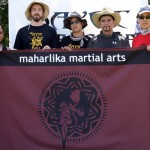 This year's Sama Sama had an unusual number of guest instructors, including Grand Tuhon Jerson "Nene" Tortal of Dekiti-Terisa Siradas and Ama Guro Raffy Pambuan of Pambuan Arnis.
We also picked up some great panuntukan and guard 5 material from Tuhon Felix Cortes, and Tuhon Jimmie Sayoc taught the whip curriculum. The weather was what you might expect from Florida in July – hot and humid – but, fortunately, there were no major medical crises this year.
Guro Lem, Joe C., Vedo, and his son, Francisco, all did a great job (as usual) representing the Maryland crew!