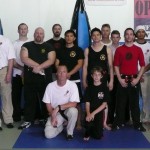 This seminar was hosted by John Bailie and held at Vanguard Gym in Manassas, VA.
Tuhon Tom taught a great seminar as always, covering stickgrappling, focusing on chokes and levers, and gun counters.
Nice turnout included members of Maharlika Martial Arts, Buffalo Martial Arts and Arnis DC. Guro Ervin Quintin from Virginia Beach participated and is interested in forming a training group. It was fun to train and make new friends at the same time!